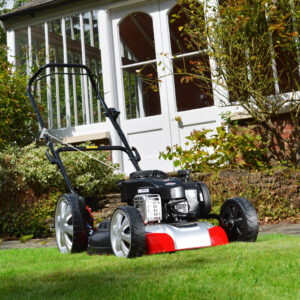 Buying a lawnmower can sometimes seem like a very daunting task, particularly when it's not something you're overly familiar with. There are so many different options to factor into the equation, budget, various different cutting widths, self-propelled or push options, and of course, your new lawnmower's power source – options offered on the market today include, petrol powered, battery powered & corded electric options. We are here to help make life a little bit less complicated when it comes to decision time, speak to one of our team today & we will be more than happy to help you purchase a lawnmower that best suits your needs. We would also love to welcome you to our showroom where it is possible to see all of the mowers that we have in stock fully assembled. Before you contact us, it is very useful for you to have even a very rough idea of the size of the area of grass that you intent to cut, this does not need to be anything close to exact however it does help with determining your needs with regards to factors such as cutting width & drive options.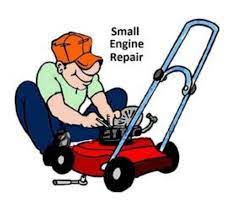 Another factor that people don't always take into consideration is aftersales service. Yes, all mechanical garden equipment does come with some form of warranty, as far as we're aware at least – generally ranging from 12 months, up to 3 years in length, but what happens if the retailer does not have their own workshop or even spare parts department at their disposal? The issue of warranty & aftersales, even if the issue is relatively small can become quite sticky in this instance. When a consumer returns an item of lawn & garden equipment to a retailer, the retailer is perfectly entitled to mechanically assess the item prior to determining what the next step in the warranty process is, if the retailer does not have on site technicians to carry out this work, it may be outsourced which is where it starts to get awkward for everyone! We are very lucky to have our own on-site workshop with 4 technicians who specialize in repair & service of a variety of lawn & garden equipment. To their credit, this is a service offered by many of our competitors in the business, however it is not offered by all of them, by any stretch for that matter! All of the lawnmowers we sell are fully serviceable, so you can rest assured that you are in good hands throughout your warranty period & beyond.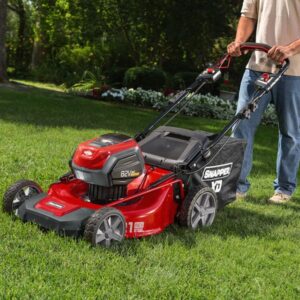 The conundrums when buying lawnmowers unfortunately don't quite stop there; want to massively reduce your environmental impact & save money on such expenses as petrol & maintenance? Then perhaps battery powered is the best option for you. Did you previously own a mower with a steel deck that became corroded within a short time frame? A mower with a composite or polymer deck is the obvious choice if this is the case. Feel free to contact us or drop by our showrooms to discuss the various options available to you, a member of our team will be more than happy to welcome you & make your purchase as seamless as possible.